Product Description
One Button Retraction: Convenience is key! That's why we've designed this ladder with easy one button retraction. Simply press down on the thumb buttons and the ladder (completely extended condition) will slide down effortlessly.
Premium Aluminum Alloy: The EQUAL Telescopic Extension Ladder is crafted from high-quality aluminum alloy. It's lightweight and easy to carry without sacrificing strength.
This ladder is as sturdy as they come, with a weight capacity of up to 330lbs! Non-slip end caps hold the base firmly in place, while extra-wide steps ensure safe climbing. We've also made sure that this ladder is compliant with EN131 safety standards to give you some peace of mind.
Safe to Use: No more pinched fingers! The telescoping ladder's high quality construction ensures that each section expands and retracts safely. Intelligent locking pins hold the sections in place and prevent sliding, and the ladder will retract smoothly and slowly.
Telescope Extension Ladder is perfect for all of your specific needs. Use it to help paint the walls, change the light bulbs, clean the windows, and everything in between.
Tired of lugging around your bulky ladder? Make your life a little easier with the EQUAL Telescopic Extension Ladder. Durable enough for daily use with a weight capacity of 150 kg. The high-quality extension mechanism allows you to adjust the height quickly and effortlessly, and locking pins hold it securely in place. It's the perfect tool to help you paint the walls, change light bulbs, clean windows, repair the roof, and so much more.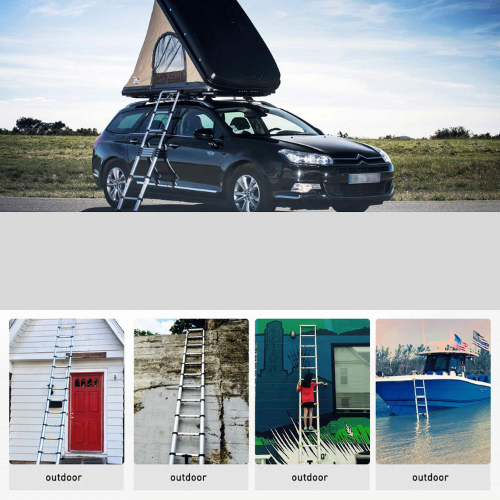 Independent Locking:
The independent locks allow user to adjust the height of the ladder to specific requirements such as repairing ceiling lights, hanging picture frames, and painting walls.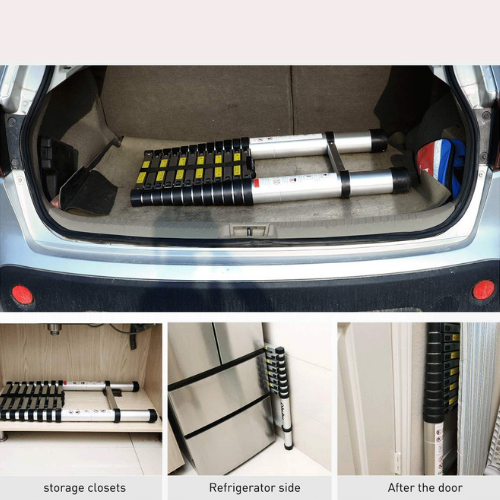 Proprietary locking system:
Designed with safety in mind, each of these telescoping ladders features a No-Pinch Closure System, as well as tab indicators that let you know when the rungs are locked into place and the ladder is safe to climb.
Carry and Store Anywhere:
Thanks to an integrated carrying handle and heavy-duty closure strap, the EQUAL Telescoping Ladder can be taken anywhere, and it stores compactly in your garage or truck.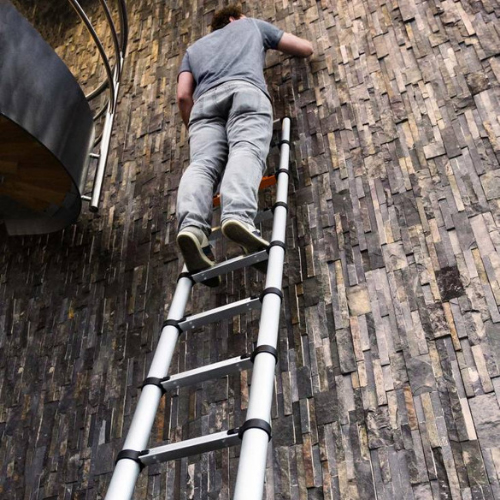 Non-slip end caps:
Bottom caps on the feet hold it firmly in place and can avoid tipping over while working, further enhancing its overall safety, give you some peace of mind.