Product Description
This Aluminium ladder can be used as a scaffold, leaning ladder, stepladder and also can be changed into many different shapes to meet different height requirements and working needs
Heavy-duty aircraft-grade Aluminium construction; square rungs and supporting tubes, make this folding ladder stable and durable; meets the EN131 standard
Connected by six security locks, which can be opened and locked for changing the shape of the ladder easily while guaranteeing the security
The form of our folding ladder can be changed into four different positions which are step ladder position, straight ladder position, stand-off ladder position, and scaffold position in order to meet demands for a different home or business usages.
Adopting the design of zigzag anti-slip foot straps, which can prevent the ladder from sliding during use to a certain extent; with the undulating ridges of the square rungs, it can avoid soles slipping during use as much as possible
With A Sturdy Aluminum Construction, This Multi-Purpose Ladder Makes A Handy Addition to Any Home. It Can Be Used As A Telescoping Ladder, Twin Stepladder, Stairway Stepladder, And As Two Scaffold Bases. Because Of the Rational Design, the Hinges Will Automatically Lock Into Position Once the Ladder Is Unfolded, Which Makes the Ladder Easy To Work With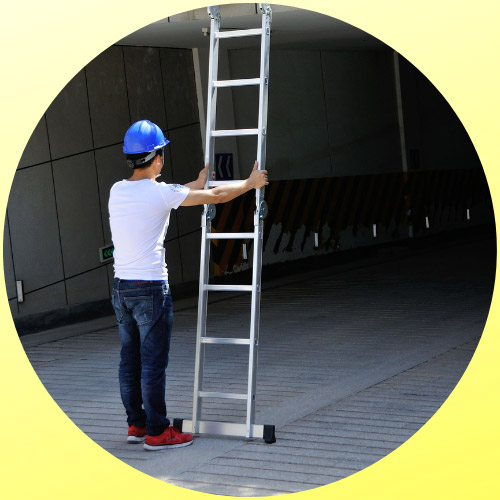 Use the Ladder Seven Different Ways:
You can open it when you use and fold it after use up, convenient to transfer. It required work must be strong enough. And it is widely used in all kinds of civil engineering, home improvement use, and fitting-out engineering, more and more popular.
More Stable & Safe:
Made of high-quality aluminum material, it is durable and sturdy for you to use for a long time. With a portable and practical design, it can be used easily & safely.
Carry and Store Anywhere:
The ladder can be taken anywhere, and it stores compactly in your garage or truck.
For Indoors and Outdoors:
Designed for both commercial contractors and home do it yourself customers, EQUAL Ladders are a sensible alternative to traditional bulky extension ladders. Lightweight and durable, these heavy-duty, time-saving ladders extend by the foot and feature ergonomic designs and locking tabs for smooth, safe operation